INTERACTIVE 3D MODEL OF THE TRACHEA
For more information on how to navigate the model, click on the question mark icon on the bottom right corner of the viewing screen.
EPITHELIUM OF THE TRACHEA
Much of the upper airways are lined by pseudo-stratified ciliated columnar epithelium. Recall that pseudostratification means that despite the appearances in two dimensions, all of the cells connect with the basement membrane.  The functions of the upper airways are numerous but include gas transfer, humidification, immune surveillance and clearance of foreign material. The epithelial present helps perform many of these roles. Mucin secretion helps lubricate the airways and trap foreign material which is in turn cleared by a "wave-like" beating of the small hair like projections (cilia) on the surface of the cells. This function can be seen in the animation opposite. A range of inflammatory cells are present throughout the epithelium forming and integral part of immune surveillance.​​​​​​​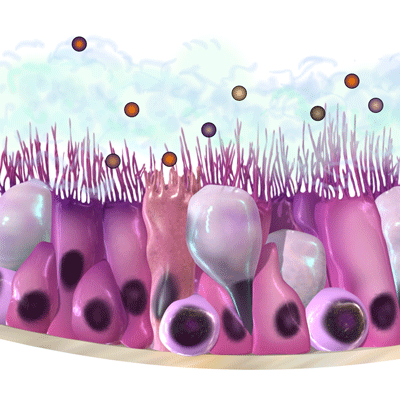 The images below show how the epithelium us situated within the trachea as a whole and identifies structures surrounding the epithelium.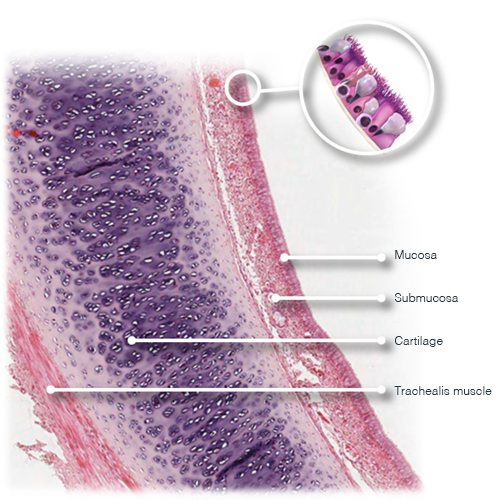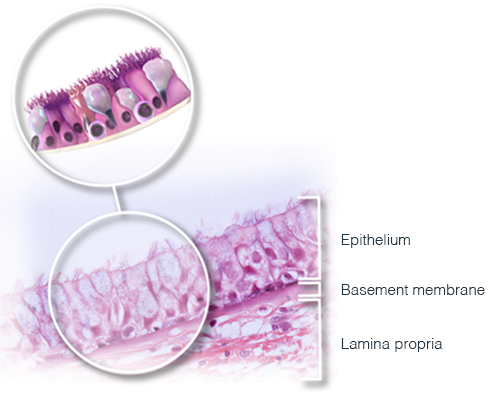 CLINICAL RELEVANCE: METAPLASTIC CHANGES IN TRACHEAL EPITHELIUM CAUSED BY SMOKING
Many of the constituents of cigarette smoke are irritating or toxic towards the glandular pseudostratified columnar epithelium of the airways. Squamous epithelium, which is thicker and tougher, is better suited to dealing with smoke related injury and therefore airways can undergo a change in cell type (metaplasia) from columnar to squamous. As a result, although squamous epithelium is not normally present in the airways, smoking can give rise to squamous cell carcinoma with the metaplastic change representing an early intermediary step towards malignancy.
The image on right shows two small fragments from the same biopsy. At the top of the screen it is easy to discern cilia on these columnar cells and this therefore represents genuine respiratory epithelium. At the bottom of the image the strip of epithelium is multilayered and stratified. This fragment represents squamous metaplasia of the airways.
Want to have a look at the world through a microscope? Log in to the virtual microscope. Use your University of Dundee login information and have a look at a collection of microscopy images of different kinds of epithelium.